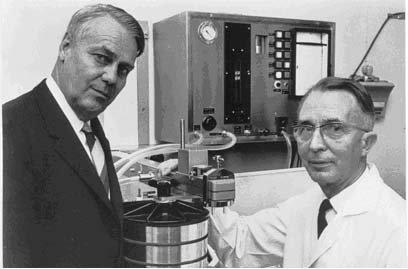 Holger Crafoord and Nils Alwall in front of the first Gambro kidney (Photo belongs to Lund University, Sweden).
Our heritage goes back to professor Nils Alwall, nephrology chair at Lund University, and one of the founding fathers of dialysis who inspired the creation of Gambro Inc, one of the major dialysis equipment manufacturers for many decades.
Our origin dates back to the founding of Gambro Healthcare division and the opening of the first dialysis clinic in Sweden, Lund, in 1991.
From Sweden, Gambro healthcare clinics expanded to the rest of the world, and in 2007 operated 153 clinics in 11 countries, treating more than 12,000 renal patients.
In 2007, Gambro Healthcare was acquired by Bridgepoint with the vision to help healthcare systems across the world to provide universal access to world-class renal care and deliver life enhancing renal care to patients globally.
Together with the new vision, the name Diaverum was adopted and launched worldwide.
During the following years, Diaverum became synonymous with quality, clinical governance and culture of true care, while during the same period it has expanded substantially and today operates more than 400 clinics in 22 countries serving more than 39,500 patients globally.
Important milestones in our history
Below are important milestones and events of Diaverum's history of growth globally and in the Kingdom of Saudi Arabia.
1991
Gambro opens its first dialysis clinic in Sweden, Lund.
2007
Bridgepoint acquires Gambro Healthcare from EQT and Investor AB, subsequently changing company name to Diaverum. The business is at that time the second largest corporate provider of dialysis care services in Europe with 155 clinics in 14 countries serving 12,000 patients and with ancillary businesses in South America and Australia.
2011
Diaverum enters the Middle East with Saudi Arabia as the first market by opening a clinic in Dammam. Diaverum enters Chile with the acquisition of four clinics. Diaverum enters Romania and adds nine clinics across the country.
2013
By a Royal decree Diaverum awarded a five year contract to run 50% of the dialysis clinics previously under the management of the Saudi Ministry of Health (MoH).
2014
Diaverum enters Russia by acquiring ten clinics of Unona.
2015
Diaverum enters the Asian market through its acquisition of Nefros Asia in Kazakhstan.
2017
Inauguration of the first Integrated Renal Care Centre (IRCC), in Riyadh, Saudi Arabia. Integrating d.ACADEMY training centre, dialysis centre, and a vascular access procedure room.
2018
Diaverum opened 33 new clinic within the MoH contract to care for more than 4,000 dialysis patients in 27 cities and towns in Saudi Arabia in the completion of the first contract. Diaverum opens state of the art transplant centre d.INSTITUTE ITAC for complex transplants in Argentina. Diaverum enters Brazil and North Macedonia.
2019
Diaverum strengthens its partnership with Ministry of Health in Saudi Arabia by renewing a five-year dialysis contract with plans to expand to more than 40 clinics across the Kingdom. Diaverum enters Albania, and enters Morocco through a partnership with Centre d'Hémodialyse de Marrakech, expanding Diaverum's presence to 22 countries worldwide. Diaverum serves more than 39,000 patients in more than 400 clinics.
2020
Accreditation of d.ACADEMY training centre in Riyadh, Saudi Arabia, by Saudi Commission for Health Specialties (SCFHS). Diaverum expands its presence in Asia by acquiring Advance Renal Care Asia operating in Singapore and Malaysia.